Shopping Cart
Your Cart is Empty
There was an error with PayPal
Click here to try again
Thank you for your business!
You should be receiving an order confirmation from Paypal shortly.
Exit Shopping Cart
Fashion Week or Bust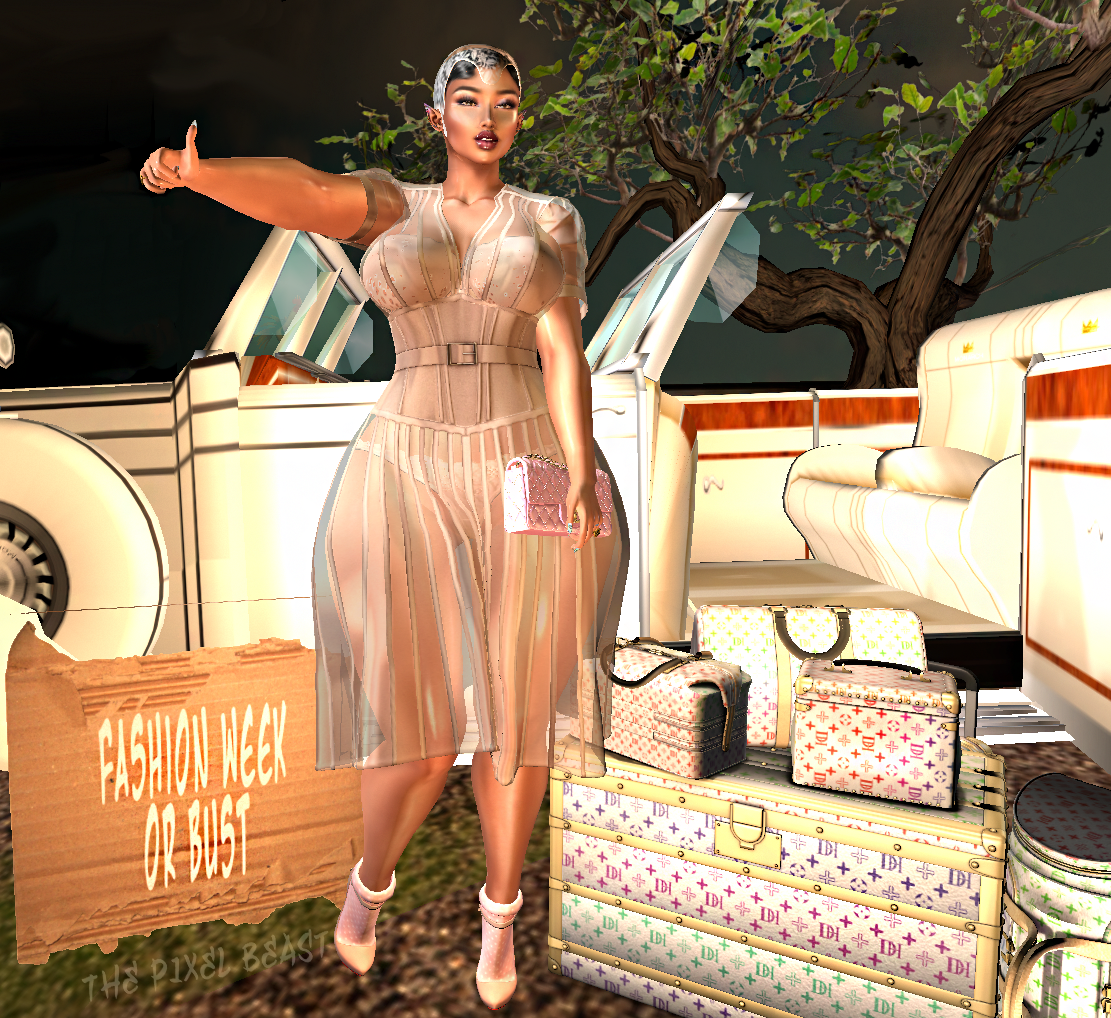 As Fall lFashion week New York comes to close all of you Fashionistas and Pixelistas are excite about the new styles and gadgets we are seeing and giddy with anticipation of what will be debuted internationally. 
I personally am bursting  with excitement to see how some of our favorite fashion forward designers interpret theses new trends in the virtual word.  So maybe this artical should be called Fashion Week and Bust 
All this weeks excitment inspired this outfit and the imagry of a small town girl whos fashion has outgrown her surronding. Letting nothing stop her from getting to the Big Cities and Fashion Meccas. 
Show in this blog :
David Heather
Alejandra Dress in Nude
Costello Headpiece in Nude
at The David Heather Main Store. 
maps.secondlife.com/secondlife/David%20Heather/81/121/24
[BREATHE]
Cheri Heels in Hazelnut
From the May 2018 Gacha Garden
Many Coppies on the Market Place
7
7HANEL Bag
In Square and Mini Square
In 3 Stule Display, Should And Clutch 
4 Packs available Classic, Fun, Chic and Fatpack
At The Level Event 
maps.secondlife.com/secondlife/LEVEL/70/112/3
David Heather
Luggage Rainbow 
His Travel Gacha currently at The Arcade
maps.secondlife.com/secondlife/The%20Arcade/70/131/33
Follow The Pixiel Beast on Flickr and Facebook.
Follow @HazelleGoLightly on instagram For addtional extended conten
* Shown on Slink Hourglass Body and Catwa Catya Head
Categories: Fashion , Style , Home & Garden
/